We're here to help you plan your next trip. Join our mailing list to receive information on flight and hotel deals, destination guides, and advice from travel experts. Plus, you'll get weekly deals that are exclusively available to subscribers.
Bali has emerged as one of the most favorite travel destinations in Asia. This island of Indonesia is known for its awe-inspiring cultural treasures and some of the most celebrated landmarks and landscapes that can leave you wonderstruck. Bali is called the 'Island of Gods'. From high mountains to resilient coastlines and black sandy beaches to volcanic hills, Bali is gifted with some of the most alluring scenic vistas that you can't imagine. The natural beauty of Bali compliments its innumerable ancient temples and other historical sites which makes the setting quite ideal for clicking the most scintillating photographs.
2 Nights accommodation at a hotel in Ubud

3 Nights accommodation at a hotel in Nusa Dua

Meet & greet at the Denpasar airport by our representative

Daily breakfast at the hotel1 lunch during Kintamani sightseeing (local food)

Airport to hotel and vice verse transfers

Internal hotel transfers

Kintamani tour with sacred monkey forest and Swing


2 hours spa treatment and flower bath

1 bottle mineral water per person during airport transfers & 2 bottle of mineral water per person per day during sightseeing

Parking fee as per the itinerary *Currently applicable taxes
International / Domestic Airfare

Personal expenses

Extra food and beverages that are not specified in the program

Tipping for Guide and Driver (not compulsory)

Any optional tours

Anything not mentioned in the Itinerary and Inclusions

Optional Tours on day 4 & 5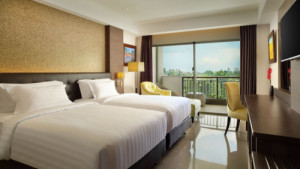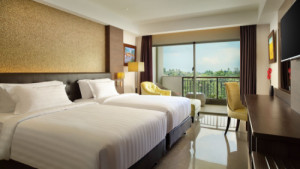 ENCOUNTER THE MOST SPELLBINDING LAP OF NATURE IN THE HEART OF BALI
Sthala, a Tribute Portfolio Hotel, Ubud Bali, a 5-star hotel managed by Marriott International overlooks lush green Ubud landscape, dense forests and the Wos River. Sthala Ubud Bali located only 60 minutes away from Ngurah Rai International Airport and can be reached by 15 minutes from Ubud centre. The hotel provides daily complimentary shuttle to Ubud centre and featuring 143 Deluxe rooms and suites, with a spacious living area and balcony, most rooms provide a commanding view of the Wos River and surrounding areas. Our service and facilities aim to allow you to relax, be pampered and experience the warmth of the Indonesian people and the culture of Ubud, which many describe as the 'Heart of Bali'.
With an idyllic setting in bustling Kuta and inspired by the beauty of the Island of Gods, The ANVAYA highlights stylish, contemporary, authentic Balinese architecture featuring a gorgeous connection between the eras of the ancient Bali Aga, Hindu Bali and Modern Bali. The island's dazzling beach views over the captivating Indian Ocean and the resort's Balinese heritage mean that Bali is so much more than just another destination.
For discerning travellers seeking an authentic experience and unique ambience, The ANVAYA is a hidden gem. Offering 493 fully furnished, modern spacious guestrooms, suites and villas, we are ready to spoil our guests with all the luxuries afforded to today's savvy travellers.Set in the magical setting of Kuta Beach with its pale sand, sparkling waters and clear blue sky, the air of serenity and romance at The ANVAYA make it perfect for couples and honeymooners, lovebirds embarking on a new journey together or even seeking to renew their vows, as well as for families. A stay at The ANVAYA promises a lifetime of memories.
Stepping out of the peaceful ambience of The ANVAYA right into the heart of Kuta, guests will find vibrant shopping, water sports, local attractions and nightlife right on their doorstep.
Augmenting the luxury of this five-star resort, The ANVAYA showcases Indonesian cuisine at Kunyit Restaurant and international cuisine at Sands Restaurant. Meanwhile, The ANVAYA's in-house Sakanti Spa offers traditional Balinese treatments, renowned worldwide, to foster guests' well-being. These bespoke treatments from the heart use only fresh local ingredients, promising a sublime spa experience that leaves guests feeling rejuvenated and relaxed.
Day 1 - Bali Airport - Ubud
Day

2 - Kintamani Day Trip with Sacred Monkey Forest, Swing & Lunch
Travel Insurance is high key recommended to protect yourself while traveling. If you decline to purchase insurance, you must fill out a travel insurance declined waiver form. Insurance is sold separately and is strongly advised. Insurance is quoted on an individual basis depending on the passenger's age and total amount of the vacation package
Name Change Fee – $200 before final payment date on your invoice; $250 + any vendor fees after final payment date on your invoice.




Late payment of $250 per person is required after the final payment date on your invoice.
All payments to Sherry Destinations Travel are non-refundable and non-transferrable
Reservations must be made in your FULL NAME as it appears on your passport. If you enter your name incorrectly, a name fee may apply.
Prices are subject to change without notice. Please make your reservations today at this low price to be locked in.
Airline seat assignments are solely up to the airlines.
The best sunset view of the famed Uluwatu Temple and the Kecak Dance Performance at the temple site
Cuddling, petting, and playing with the friendliest monkeys across the planet at the Sacred Monkey Forest at Ubud
The thrill and ecstasy at the Bali Swing
Soul-nourishing and invigorating Bali Spa
The astounding active volcano, Mount Batur (Gunung Batur) tour
Optional tour to Nusa Penida that gives you the glimpse of the village life of Bal

i
The first day of this refreshing trip starts with your arrival at the Ngurah Rai International Airport. Our representative will be there to receive you heartily and escort you to your hotel in Ubud – in the uplands of Bali. This day is reserved for recovering from jet lag and enjoying the hotel amenities. You may also explore and shop around in the nearby locality. Although it is irresistible to stop yourself from hanging out in the local markets amidst such breathtaking natural beauty and serenity but it is advised to go to bed early and have a sound sleep as the following days will be filled with a lot of thrill and adventure.
Overnight stay in Ubud (Bali).
We can promise you that the pictures you will click on this day will adorn your albums, wall frames, and social media for ages. The day starts with a sumptuous breakfast at the hotel.
Now the thrill begins! You will be taken for definitely the most amazing experience of your life a joyride on the Bali Swing. Let the inner child in you unleash and swing high over the trees, rice fields, river valleys, awesome cliff view, and lush green jungles.
At present, there are 15 such gigantic swings in Bali that vary in shapes and sizes and more of such are being built. The heights vary between 10 meters to 78 meters above the ground, and they all are equipped with state of the art safety gear and braces. The adrenaline rush when you thrust upward in the air is an experience you will retell again and again.
Imagine sitting on these aesthetic swings in the midst of heavenly natural beauty with your loved ones. Isn't it for moments like these that we take exotic trips?

After this joyride, it is time for some more interaction with nature at the famed Sacred Monkey Forest of Ubud. This unique forest is a nature reserve and a temple complex which is abode to hundreds of long-tailed Macaques (Macaca fascicularis). Don't worry! The monkeys you'll meet there are the friendliest you'll encounter on this planet. You can actually pet them, feed them, and cuddle them. Sacred Monkey Forest of Ubud is visited by over 10,000 tourists a month, thus, these monkey are used to human interaction and have even learned to pose for perfect selfies with you. No kidding!
Not only for its cute monkeys but the Sacred Monkey Forest of Ubud is also famous for its ethereal natural beauty and contains at least 115 different species of trees. Apart from the gifts of nature, this forest boasts of the Pura Dalem Agung Padangtegal temple, the 'Holy Spring' bathing temple and another temple used for cremation ceremonies. Each of these places provides ample opportunities for you to take pictures that will make your peers envious for sure.

If you think that you had enough for the day, then buckle-up as you will then be driven to the famed Kintamani highland, a village famous for its varied landscapes. This awesome place has a plethora of restaurants and dining options. You can also drink the most expensive coffee in the world – the Kopi Luwak coffee. Among the many breathtaking views, the view of astounding active volcano, Mount Batur (Gunung Batur) is mesmerizing. You might pinch yourself to be sure that you are not in a wonderful dream. Make sure that the batteries of your camera are charged else you'll not forgive yourself for the blunder.
After this memorable day filled with thrills and amazements of varied flavors, you will be transferred to your hotel for a well deserved sleep.
Overnight stay in Ubud (Bali).
Meals :Breakfast | Lunch
Day 3 - Nusa Dua (Bali) / 2 hours Spa with Flower Bath
As you had a rather enjoyable but a little tiring Day 2, this day is reserved for some self-pampering, recuperation, and rejuvenation. After having a lip-smacking breakfast at your hotel in Ubud, you will check out and transfer to your hotel in Nusa Dua.
Caress your senses with herbal oils in the golden hands of the masseuses and masseurs while the incense sticks burn in the backdrop and spreading refreshing aromas. Absorb yourself in the most reinvigorating and soul-satisfying spa while being submerged in exotic flower petals, natural scents, aesthetic bath-tubs, surreal surroundings, and décor in the most scintillating spa centers of Bali.
The combination of heat, massage, and buoyancy in these tickling spas provide uncountable physical and mental benefits. Take this time to release all the tension in your limbs, head, and gut. Ease the tired muscles and enjoy full-body relaxation. The range of spa includes stone massage, shirodhara, hot oil massage, herbal massage, flower baths, and much more.
Flower baths contain essential oils and flowers specifically designed to treat different ailments and provide wellness benefits. These types of baths are particularly common in Bali, known as Bali flower baths.
After this day's extensive self-care therapies, you are sure to have a sweet night sleep in your hotel in Nusa Dua.
Overnight stay in Nusa Dua (Bali).
Meals :Breakfast
Day 4 - Free Day / Optional Tour of Uluwatu Temple with Kecak Dance Show
This day brings you the option of having either a free day to rest and unwind at the hotel or embark on the optional tour. After having the palatable breakfast at the hotel, you will get some free time to explore Nusa Dua and its locales. Nusa Dua is an ideal place for water sports, sunbathing at the beach, and enjoying a drink or two in one of the shacks. Make the most of this time to chill out and relax with your travel group.
Optional Uluwatu Temple Sunset Tour With Kecak Dance Show & Seafood Dinner At Jimbaran Bay @ US$ 97 Per Person

Later in the noon, you can opt 'Sunset Uluwatu temple tour with Kecak dance show & dinner at Jimbaran bay', you will be picked up for Uluwatu temple tour with an optional Kecak dance show.
The Uluwatu temple is an ancient Balinese Hindu sea temple perched at top towering seaside cliffs, situated outside Kuta on Bali's southwestern tip. The deity of this temple is Ganesha – the Hindu Elephant God. This spot is world famous for its most amazing sunset view.
At evening 6'O clock, if you wisely opt for the Kecak dance show - you will be treated with the famed Balinese dance show depicts scenes from the most popular Hindu epic – Ramayana. The name of the dance form is Kecak dance. The Kecak dance style is celebrated for its artistic value and incredibly complex hand gestures. The Kecak Fire Dance, also known as the 'Monkey Dance' is the highlight of this performance. This outing at the Uluwatu temple blesses you with a perfect exhibition of all the attractive Balinese culture.

After spending a completely satisfying evening at the Uluwatu temple complex, you will ascend from the cliff and transfer back to your hotel in Nusa Dua for an overnight stay.
Overnight stay in Nusa Dua area (Bali).
Meals :Breakfast
Day 5 - Free day / Optional tour of Nusa Penida
This day brings you the option of having either a free day to rest and unwind at the hotel or embark on the optional tour to Nusa Penida.

Optional Nusa Penida Tour (At additional cost)
If you choose the latter, you get to explore an untouched island having a traditional village for a full-day. This small-group tour of Nusa Penida from Sanur is really worth it as you get to interact and see the lifestyle of the locals in their neighborhoods. As you visit the village by motorbike, you can explore the real Bali without any of its touristy fanfares.
After that, you can soak up the sun on Uwug beach where a stunning sea cliff arches over clear and tropical water. Snorkel, walk and swim along a series of pristine beaches, and enjoy a picnic lunch on the sand. That is not it, as you will get to have a glimpse of local life in Toyapakeh village as well. From there you'll then climb an intricate staircase into the Dalem Ped temple before returning to Sanur. From Sanur, you'll be transferred to your hotel in Nusa Dua for overnight stay.
Overnight stay in Nusa Dua area (Bali).
Meals :Breakfast
Wake up and pack your bags carefully to make sure that you do not leave anything behind. Have a completely satisfying breakfast at the hotel and get transferred to the airport to board a flight to home.
End of the tour with a lot of happy memories.
Meals :Breakfast
DOUBLE : $1699 Per Person
SINGLE : $1999 Per Person
Arrival and departure transfers
Flight departing from NYC/JFK
4 nights in Dubai at 5 stars hotel
l7 meals: 7 breakfasts and 1 dinner
Burj Khalifa VIP entrance
Gratuities for Driver and Tour Guide
Suggested Gratuities for Tour Guide (suggested $10-$20 per day)
Suggested Gratuities for Driver (suggested $5-$8 per day)
Items of a personal nature
Travel Notes For Perfect Tour
Traveling abroad requires a passport valid for six months beyond travel dates.

At check-in, a credit card will be required for check-in to cover anticipated room charges.

A full day-by-day itinerary will be provided 30 days before travel, if not earlier
Available 2023 Dates
Mar 11 | Apr 08 | Jul 15 |
Aug 12 | Sep 16|Dec 02
Deposit: $300
Non-Refundable

Sthala, a Tribute Portfolio Hotel, Ubud
This

is for you if:
You are well traveled with an affinity for cultural experiences

You want to travel in the safety of a group but still want enough freedom to explore on your own

You want to travel with like-minded individuals



This is NOT for you if:
You refuse to abide by a schedule

You have mobility issues

You don't feel comfortable making new friends
Policy Regarding Cancellation / No Show / Early Departure



In the event of cancellation of travel arrangements due to any reasons – we must be notified of the same in writing. Cancellation charges will be effective from the time/date we receive your notification in writing. Cancellation fees as below apply to the land packages and/or services.60 - 31 days prior to arrival – 40% of the Tour.
30 - 07 days prior to arrival – 75% of the Tour.
06 days - 72 hours prior to arrival - 90% of the Tour.
Less than 72 hours or No Show – No Refund.Deposits are NON-REFUNDABLE.
Grand Hyatt The Anvaya Beach Resort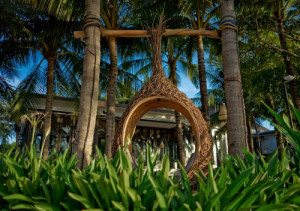 Mar 11 | Apr 08 | Jul 15 |
Aug 12 | Sep 16|Dec 02



Do

U.S. citizens need a visa and a passport to travel?
Any other ID or documents needed to travel from the USA besides a passport?
Yes, the passport is always required to travel for US Citizens. Apart from Passport & Visa no other ID is required.



What type of Visa is required to travel ?


You require a tourist visa to travel.



Do military or senior citizen discounts apply?


The prices are already discounted and further discounts are not available.



What is your refund/cancellation policy if someone backs out of the trip?


Please click the link below to refer to our terms & conditions & cancellation policy.


How can I book flights?
In order to book flights through Sherry Destintinations please let us know the departure cities and we shall email the best available fares. The second option is you can also look & book fares online through Priceline or Expedia or any other online flight booking portal.
Can additional nights be purchased?
Yes, additional nights can be purchased. Pre or Post tour.
Frequently Asked Questions(FAQ).